Hitchcock, 3 short plays in shades of Black, White and Blood Red.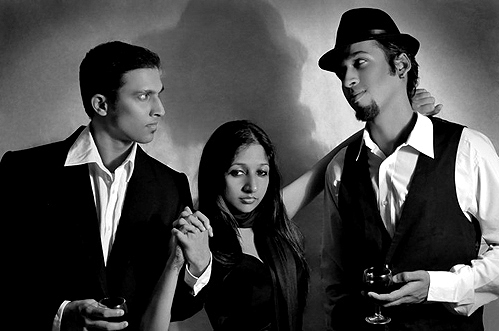 If you're in Chennai on the 17th or 25th of July, then don't miss this exciting rendition of 3 short plays from Hitchcock's popular 50's series 'Alfred Hitchcock presents'. Stray Factory has brought together local and global music, art and theater collaborators to make this neo-noir mystery play possible.Tickets?
Also check out a few members of the cast in character: [Photo credits to Ram Prabhu and Nayantara Kurma]
Aishwarya Mahesh is 'Mrs. Evelyn Mulwray'
Rajiv Rajaram is 'Red'
Nisha Krithivasan is 'Maggie
Sandeep John is 'Del'
HITCHCOCK runs for 90 minutes, and you can book tickets here.
Update: The play is in the press! And you can find me under those responsible for set design :) Update #2: Check out the rave reviews.